Wayne County Fraud Unit
The rise of fraudulent property activity has become a serious problem in recent years, resulting in the desperate pleadings of residents that have come to the Wayne County Register of Deed's office searching for help. Concerned constituents have come into the R.O.D. office with falsified land ownership records after finding no agency able to follow through and assist with their problem. Seeing that property owners were having their homes threatened and compromised with no agency capable of providing relief or justice, the Wayne County Register of Deeds, Bernard J. Youngblood, began the initiative of creating a property records fraud unit. This fraud-fighting unit would receive complaints, investigate, charge and prosecute the individuals responsible for criminal and fraudulent land record activity.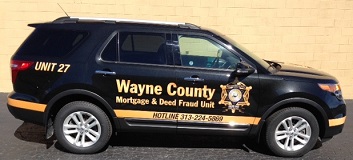 Collaborating with Wayne County Prosecutor, Kym Worthy, and then Wayne County Sheriff Warren Evans, Bernard J. Youngblood Register of Deeds, established the first in the nation Property Fraud Task Force. All members of the Wayne County Mortgage & Deed Fraud Task Force have been trained in document research, specializing in document investigation. The initial investigation is done in the state-of-the-art land records system installed by the Register of Deeds, which became fully functional in February 2007. A property fraud "HOTLINE" has been established for homeowners who suspect their property may be at the heart of possible fraudulent activity. The "HOTLINE" number is available 24 hours a day 7 days a week, and is (313)224-5869. Once a complaint has been received, a file is created and the case is reviewed for legitimacy. If fraudulent activity is suspected, it is given to the sheriff deputies for a more thorough investigation. If fraudulent activity is proven, the file is forwarded to the Fraud Units prosecutors for litigation.
Community Impact
These "Fraud Fighters" direct 100 percent of their time toward investigating mortgage and deed fraud within Wayne County. The skills offered by the Fraud Task Force service are unique in that it is not available through traditional law enforcement efforts. Since 2005 the Wayne County Mortgage & Deed Task Force has:
Inquiries: 11,754
Cases Opened: 2,247
Search Warrants: 1,139
Arrest Warrants: 463
Convictions: 326
Stolen Homes Returned: 373
Successes such as these have resulted in the Wayne County Mortgage & Deed Task Force gaining international recognition from organizations, elected officials and news media. Community officials from across the country have contacted the Wayne County Register of Deeds interested in replicating the innovative operation of the Wayne County Mortgage & Deed Task Force. The unit's success in investigation, prosecution and conviction has provided the residents of Wayne County with an agency designed and dedicated exclusively for protection and rights of land ownership where in the past, one did not exist.
News Updates
People vs. James Webb/Geneva Edwards/Zarvelar Weems-Jones/Trini El-Bey - Between January 2016 and March 2017, Defendant James Webb assisted by Defendants Geneva Edwards, Zarvelar Weems-Jones, and Trini El-Bey, filed or assisted in the filing of false affidavits and quit claim deeds with the Wayne County Register of Deeds in a scheme to obtain and profit from the illegal claim of ownership of unoccupied homes throughout the City of Detroit, without the true owners knowledge or consent. Webb, Edwards, and Weems-Jones would collect a fee from complainants and claim that they could get them ownership of vacant properties through a process they called the "acceleration tax lien foreclosure process". Defendants would target properties throughout the city of Detroit that were unoccupied and in some instances behind in taxes. After paying Webb a fee, complainants would receive a false or forged affidavit and/or quit claim deed to a property which was in turn recorded with the Wayne County Register of Deeds. In some instances, Webb would make contact with the true owners of the properties and advise them that he had taken possession of their home and would only vacate their property if they paid him money. Defendant Trini El-Bey was a notary and would assist in notarizing the documents for recording, outside of the presence of the individual signing. Defendants were charged with multiple counts including: Extortion, Home Invasion, Larceny by False Pretenses, Recording Fraudulent Conveyance, Uttering and Publishing a Document Affecting Real Property, Encumbering Real Property without lawful cause, Forgery of a Document Affecting Real Property, and Conducting a Criminal Enterprise. All Defendants pled guilty to their crimes and received sentences ranging from probation to five to 20 years in the Michigan Department of Corrections for the main offender, James Webb.
People v. Jerome Barrow/People v. Michael Watcke - This co-defendant case involved the fraudulent reopening of a probate estate and use of the estate to take the home from an heir. Defendant Barrow and the victim met in the army and had a relationship for many years. The victim moved from Toronto to the United States when she inherited a home from her father when he passed away. Shortly after the victim received the home Defendant Barrow moved in with the victim. The relationship between Defendant Barrow and the victim ended and the victim moved out of the home. Defendant Barrow continued to live in the home after the victim had moved out. The home went into foreclosure and was sold at auction. Before the redemption period had lapsed, Defendant Barrow contacted his real estate friend, Defendant Watcke, to concoct a plan to put the home in Defendant Barrow's name. Their plan consisted of fraudulently signing the victim's name and reopening the victim's deceased father's estate. Both Defendants pled guilty to a felony count of Uttering and Publishing a Document Affecting Real Property. Because of Defendant Barrow's military background, he was afforded the opportunity to enter into Veterans Court. Defendant Watcke was required to put all of his real estate licenses (notary, broker, and mortgage) into an escrow account and not be used for a period of 18 months.
People v. Kenneth Day & Diego Puga - Defendants forged a deed stealing the property of 441 S. Harbaugh. The property is a large church building located in Southwest Detroit. The pastor of the church was under the care of a guardian and conservator due to dementia at the time of the defendant's theft. After forging the deed, over the course a time period spanning approximately 1 year, the defendants began to systematically strip the church of its valuable furnishings; pews; stain glass windows; organs, etc. Some of the items stolen were posted on Craigslist for sale. The defendants were charged with multiple felony counts, some of which included: Forgery of a document affecting real property; Uttering & Publishing; and Breaking and Entering. In July of 2019 the defendants tendered pleas of guilty. Defendants are currently serving sentences of 2 to 14 years in the MDOC.
Deone Billups and Lajuan Grier - The defendants started a mortgage origination scheme in which property owners would pay them a fee to find a buyer for a property they own.  In return, the defendants would recruit and solicit borrowers.  They would facilitate the entire process including helping to set up and handle the paperwork for the mortgage application and would refer borrowers to a mortgage broker mortgage broker.  Borrowers were promised they were going to become investors and make money from rental income on the properties which the defendants indicated they would manage. The defendants also promised to use the rental proceeds to make payments on the mortgages. Ultimately, paperwork submitted by the defendants contained false statements which were designed to make the borrower qualify for the loans which they otherwise would not have qualified for.  All the loans eventually went into default when the defendants were not able to make the payments as promised, causing a loss of over $500,000 to HUD. The defendants pled guilty to False Pretense charges in April 2017 and are scheduled to be sentenced this summer.
Deborah Moore - The Deed Fraud Task Force investigated and prosecuted the crimes of Deborah Moore, who identifies as a "Sovereign Citizen." The sovereign citizen movement is a loosely connected group that believes they are the original inhabitants of the Americas, and as such, are not governed by the laws of the state. Sovereign Citizens are known for filing voluminous paper work with state agencies in order to harass property owners and disrupt government operations. Moore laid claim on a pair of prime properties in midtown Detroit, slated to be developed into a children's hospital, and filed numerous documents which stalled the project and clouded title for the true property owners.  On March 16, 2017, she was found guilty of 2 counts of the 3 year felony Encumbering Without Lawful Cause and will be sentenced later this year.
Staffords - Clifford and Mary Ann Stafford made a criminal complaint with the Wayne County Mortgage and Deed Fraud Task Force.  The Staffords complained that an investment property had been fraudulently transferred out of their company's name.  They were in the middle of a quiet title action to get the property back and wished for the wrongdoer(s) to be prosecuted.  A two year investigation uncovered that not only that the Staffords really had sold the investment property, but they sold the property when their company did not own it.  The Staffords then pocketed $44,000 dollars of the mortgage proceeds and used the remaining $311,000 in mortgage proceeds to buy the property from the true owners.  The Staffords made their complaint in an attempt to use the Mortgage and Deed Fraud Task Force to further their criminal ends.  Clifford Stafford was sentenced in January 2016 to one year probation for Obstruction of Justice.  Mary Ann Stafford was sentenced to one year in prison for False Pretenses and Obstruction of Justice.  She was also ordered to pay $75,000 in restitution and began serving her sentence on February 16, 2016.
Bernard Hardrick – Defendant Hardrick was charged by the Wayne County Prosecutor's Office in conjunction with Redford Police Department and assistance from the Michigan Department of Corrections Parole Department. Hardrick was arraigned in August 2015 on 26 felony charges including: Conducting a Criminal Enterprise/Racketeering, 8 counts of Forgery of a Document Affecting Real Property, 8 counts of Uttering and Publishing a Document Affecting Real Property, 8 counts of Recording a Fraudulent Conveyance of Real Property, and 1 count of False Pretenses >$1,000. The charges carry a possible maximum penalty of 20 years in prison and possible forfeiture of all proceeds related to criminal activity. His bond was set at $500,000 cash.
A second felony case was charged by the Wayne County Prosecutor's Office in conjunction with the Wayne County Sheriff. Hardrick was charged with 1 count of Forgery of a Document Affecting Real Property, 1 count of Uttering and Publishing a Document Affecting Real Property, 1 count of Recording a Fraudulent Conveyance of Real Property, and 2 counts of False Pretenses >$1,000.
Hardrick was released from prison on June 16, 2015, and records show that he started recording fraudulent deeds beginning on June 22, 2015. Hardrick's parole officer called the Mortgage and Deed Fraud Task Force for assistance, which led to a criminal investigation by Redford Police Department. According to Register of Deeds records, Hardrick filed at least 21 fraudulent deeds. Hardrick is scheduled for a pre-trial hearing on January 8, 2016 in front of Cynthia Gray Hathaway at the Frank Murphy Hall of Justice.
Update: After a three week jury trial, Hardrick was found guilty of 22 counts March 23, 2016. He was sentenced to a term with the Michigan Department of Corrections of 25 to 45 years. The sentence was at the top range of the defendants guidelines. This was the longest term received on a case in our Task Force. The court followed the peoples recommendation for a long prison term because it reasoned that the defendants pattern of conduct and during the crime in question and throughout the case showed, if released he would continue to offend and this was necessary for the safety of the public.
Leonard Bale and Jerald Payton – Defendants Bale and Payton have both been charged by the Wayne County Prosecutor's Office and arraigned on the following charges: Conducting a Criminal Enterprise, Using a Computer to Commit a Crime where the penalty is more than 4 years in prison, False Pretenses >$20,000, and seven counts of False Pretenses >$1,000 but <$20,000. Today, a bench trial was finished in front of Judge Kenny at the Frank Murphy Hall of Justice.
Both have been charged with running a scheme in which they were working together from 2008 – 2011 to fraudulently sell homes that Bale owned on Craigslist. The fraud is that both Bale and Payton represented that the homes were owned free and clear without any mortgages or tax liens. Only, the homes either had tax liens or a mortgage, and many times, the homes were actually in tax or mortgage foreclosure. Payton would conduct the "closings" and Bale would be the "seller." There are nine homes involved in the charges, and they are located in: Inkster, Carleton, Woodhaven, Redford, Lincoln Park and Romulus. Bale has previously been featured on WXYZ Channel 7 Detroit in 2011 and 2012 for civil lawsuits of the same nature.
Sentencing is scheduled for January 7, 2016.
John "Yianni" Kopanakis – Defendant Kopanakis was sentenced today to 2-10 years in prison for his role in a scheme where he was selling homes he did not own to overseas investors. Kopanakis was convicted of two felony counts of False Pretenses >$20,000, and restitution is set at $1.7 million dollars. Judge Shannon Walker set the date of October 15, 2015 for Kopanakis to turn himself in. He has paid almost $200,000 in restitution to date.
Cortney Darnelle Morgan – On June 15, 2015, Cortney Morgan was sentenced to 1 ½ -7 ½ years in the Michigan Department of Corrections. He plead guilty to four felonies on four separate cases. His sentencing was pushed up from September because Morgan was caught continuing to sell properties he did not own. The Mortgage and Deed Fraud Task Force got a tip on the hotline and via e-mail on June 9, 2015 that Morgan was still up to the same illegal activities while on bond. The Prosecution set a court date with this information, and Morgan was immediately sentenced and remanded to prison.
Curtis Winnie – After a very lengthy trial that started in February 2015, APA Mariam Bazzi got a conviction against defendant Curtis Winnie. The trial was a very complicated mortgage fraud scheme that involved a real estate agent, a closer, and a straw buyer all working together. The seller of the home moved out of state and signed a power of attorney for her real estate agent to represent her best interests at the closing of the sale of her home. The agent, the closer, and the straw buyer all worked together to place phony liens on the property in order to skim off any equity that should have gone to the seller. Since the seller was not present at the closing, she was not aware of the bogus liens on the property. The agent, the closer and the straw buyer skimmed approximately $40,000 from the sale, leaving the buyer with $20,000. Defendant Winnie was the closer. The real estate agent remains at large, and the straw buyer flipped and testified against Defendant Winnie. The sentencing date is May 8, 2015 in front of Judge Bruce Morrow.